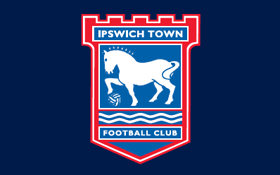 'Few of us have chosen our clubs, they have simply been presented to us; and so as they slip from Second Division to the Third, or sell their best players, or buy players who you know can't play, or bash the ball the seven hundreth time towards a nine foot centre-forward, we simply curse, go home, worry for a fortnight and then come back to suffer all over again.'
Nick Hornby
'Football fans share a universal language that cuts across many cultures and many personality types. A serious football fan is never alone. We are legion, and football is often the only thing we have in common.'
Hunter S. Thompson
I'm posting this in Things I Love but to be honest my relationship with Ipswich Town Football Club is going through a bad patch so the love is wearing thin at the moment. OK so last season we finished mid-table…ish but for far too long we have flattered to deceive. I rarely attend these days because of the 400 mile distance between us but I have two family members with season tickets who reliably inform me that in recent times trips to Portman Road have rarely been filled with joy. While I'm in grumpy old football fan mode, I'd just like to have a bleat about the earlier and earlier starts to each season. What is that all about? Yes I know there are a lot of games to be played and there is the small matter of the World Cup following this 2017/18 season but really, playing football on the first Saturday in August? We should be watching cricket. I'm ashamed to admit that I cannot actually remember the last home game I attended but it was at least three seasons ago and to be honest this absence has not made the heart grow fonder, the opposite in fact. Supporting 'The Tractor Boys' is presently something to be endured.
I am grateful for the fact that I am at least old enough to remember some joyful times. Ed Sheeran is a fan I understand and whilst he's clearly had a huge amount of joy in his life so far, he would have been a mere nine years old when we had our last appearance at Wembley (the old one). I write as if we're regulars at our national stadium, we're not of course but I have been there on the two occasions we have made it, the first being our 1978 FA Cup Final win against Arsenal. See my diary entry pictured (in my teens good days were always written in red ink… red letter days).
On reading the entry some thirty-nine years later, I am rather embarrassed that I don't seem to have cottoned on to the fact that of course the Spurs fan I met that day would have hated Arsenal… clearly I was also distracted by the fact that I had a big date the following evening. The 'him' I was debating when to call was called Guy. He was my first love who all too soon dumped me by letter, the 'text dump' equivalent of the day I suppose. I received the letter via a mate of his on the Friday and the following Monday morning Guy appeared at the sixth form college we both attended with a huge love bite on his neck, just in case I was in any doubt that he hadn't moved on… buckets were wept. I wasn't surprised; he was so impossibly good looking that I'd been astonished he was interested in me at all. I don't think there was ever a time when he was without a girlfriend. I measured myself against them all. At times I felt I'd come out on top, but it never made the loss of him in my life any easier. I don't do rejection terribly well – who does? I feel like a slug with salt sprinkled on it, slowly curling up, withering and dying.
I'm digressing hugely – ITFC – The Tractor Boys – my team – my loyalty to them is unbowed; it is absolute. I won't write a tirade about how Ipswich Town have underachieved for far too long either but suffice to say the most enjoyable part of a match day at the moment would be entering the ground, taking my seat, taking in the atmosphere and enjoying the anticipation. For no matter what is going on with the team, it's like a new page; there is hope that maybe today, this match, against these opponents, we will witness a transformation; we will find our way, a favourite player will recover good form, the team will play with passion or will simply gain a sneaky three points we don't deserve.
I mention play with passion and really that'll do it for me. I accept we don't have the money or the reputation to attract massive talent but a player who just truly loves to play, works hard and never gives up can provide just as much pleasure to watch as a silky skilled over paid prolific scorer of goals. Of course the combination of both does happen (Jamie Vardy?) but rarely. Therefore some of my favourite players of Ipswich teams gone by are not always the obvious 'legends'. Matt Holland for example always has a place in my heart for he would always, without fail no matter what the performance (and therefore mood of the fans) run around the pitch after every home game and applaud the crowd. I liked that. Mick Stockwell is another, reliable, turn up and do your best kind of player that I used to have affection for. Terry (I bled for England) Butcher, an actual legend, is another on my favourite player list. Jason Dozzell (for his good looks mainly) and Marcus Stewart, just because I felt he was misunderstood since he unfortunately had the look of someone with a hangover on match days but he was a fine servant for the short time he was with us. I've missed out some important names but I won't bore you with more. I also feel dismayed that I haven't named a player who has played in the last decade, I feel this is due to my non-attendance and also to the fact that whenever we seem to grow or acquire a talented player they are soon lost to us.
The second triumph at Wembley was in May 2000 beating Barnsley in the then Division One play-off final to gain promotion to the Premiership. See second diary entry – written in black ink though it was of course another 'red letter day'.
I'm not an obsessive fan who won't allow the colours of our rivals Norwich (yellow and green) to darken my door. (I will be blogging on the colour green very soon, I love it). My elder brother is not disposed in this way and will not allow a Delia Smith cookery book to cross the threshold to his home (Delia is a majority shareholder of NCFC). I have a copy of her Complete Cookery Course for, if nothing else, the invaluable advice on roasting times. I also have a copy of her Christmas volume with its crowd-pleasing stuffing recipe (Eighteenth-Century Chestnut Stuffing) and some very good leftover recipes (the Turkey Flan with Leeks and Cheese is a favourite in my household).
Apologies for deviating from the football theme twice now, but talking of team strips I feel the need to say I have never been tempted to purchase the replica shirt. This is mainly because of the horrible synthetic material they are made from. I did once own a copy of what is termed a 'retro' shirt design from the 1960/70's. These were the days when every team shirt followed the same design, which was made from cotton with a plain round neck with simply the team badge on the front and the number on the back to indicate playing position on the field. No sponsors, no player names and I don't recall them changing from season to season. I'm not saying strips were better then; just that cotton would be my fabric of choice.
So I love football and I love Ipswich Town but I'm not going to write further about being a football fan as there is no better account of this affliction than Nick Hornby's Fever Pitch. Read it; it's brilliant.